Holderm
Regular price
$99.99
Sale price
$74.99
Unit price
per
Sale
Sold out
Have you ever come across the smartest multifunctional speaker that does everything for you, like literally EVERYTHING!

A perfect solution to waking up late, late for work, a handy BLUETOOTH Speaker, WIRELESS Charger, Night Lamp, RADIO, Beauty, and What not???
It will also allow you to customize the atmosphere of your interior according to your desires thanks to its RGB LED technology.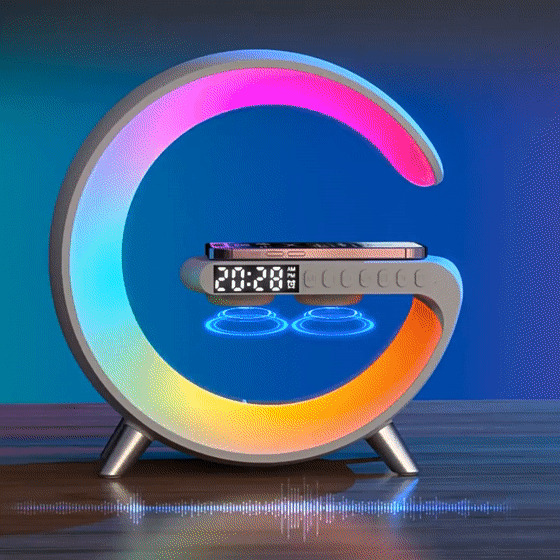 Features
A LED Glow Digital Alarm Clock
App Control RGB Night Light
Wireless charger* handy next to the bed
Built-In Bluetooth Speaker for Sports, Yoga, and Parties
Say Goodbye to Dangling and Tangling Wires
Realistic Sunrise Simulation
More than 250 Different light color Options

Also Helps with Falling asleep
Pick Up the Phone Via the Speaker function
15 Fast Wireless Charging with Charging Indicator
Double Alarm Clock Function
FM Radio
🌈Multifunctional Device with Wireless Charger
It is not simply a regular lamp or alarm clock; it is a flawless blend of many different tasks that gives you the chance to live up to the mark punctually in today's hectic lifestyle.
Along with its many amazing features, it offers you wireless charging while working or put before sleeping or anywhere such as living, studying, and office. This bedroom lamp charges much more quickly than standard chargers.
🌈Healthy Sleep Rhythm
This High Style Modern Lamp is specially designed to create a rhythmic sound effect to help you fall asleep peacefully and wake up energized with light that gradually gets stronger influencing your performance and energy level for a promising day.
Over a period of 10 to 60 minutes, the sunrise simulation gradually awakens you, intensifying to 100%.
🌈 Wake Up Light: 
Wake-up light simulates nature in your own bedroom. Gently wake up in the morning by the sunrise alarm clock and wake up light. Wake-up light gradually turns on from 0% to 100% brightness. The process is 3 minutes long making it easier for your body to acclimate getting up, leaving you feeling more energetic to start a new and wonderful day!
🌈 Adjustable Night Light
Be in the mood for romance by evoking an opulent atmosphere with 256 RGB options (solid color, two-color marquee, three-color marquee, and seven-color marquee mode) and 16 million light colors to select from with just one click, all of which can be changed in a matter of seconds using the associated APP.
The Light Intensity can be adjusted infinitely, ranging from brilliant to dark, to suit your needs as you see fit.
🌈Built-In Bluetooth Speaker 
I'm confident nobody would purchase a current product if Bluetooth functionality wasn't mentioned. You may now enjoy music with its Bluetooth speaker feature or set a rhythmic, relaxing sunset alarm to get your day started. Or you could just listen to soothing music as you meditate or sleep. It is quite helpful in every manner.
What are your thoughts about it? It is just as enjoyable to use as it is to read about.
Best decorative Atmosphere Lamp for your Living Area, Bedroom or Office.
With its elegant presence, this wireless speaker night light creates a calm and pleasant atmosphere in its immediate surroundings.
Ideal for decorating and hosting parties and romantic dinners.


Giving this elegant and clever device to someone whose life you want to brighten is the ideal choice.
SPECIFICATIONS
Input voltage: 12V/2.5A
Wireless output: 5W-7.5W-10W-15W
LDE output: 10W
Set Type: With USB Cable
Bluetooth audio power: 3W
Connector Type: Type C
Product color: black, white
Lighting modes: 256
Transmission distance: 2-6mm
Charging efficiency: 75%
Operating frequency: 100-205KHZ
Button battery capacity: 40mAh
Material: ABS+PC
Product size:225*82*230mm
Bare metal weight:466g
Compatible Model: Wireless charger for Samsung Xiaomi Smartphone, Huawei Lg, Apple iPhone (iPhone 11 12 13 14 Pro Max Samsung)
Share
View full details